I neglected to post the Matriculated strip last week so here are images and links to the two most recent updates, parts 2 and 3 of the latest story line in which I'll apparently be drawing a never ending parade of black eyes. Something that wouldn't be so terrible if I didn't draw black eye's that look like California Raisins. Highlighted just for you folks here in that second image. 
Click the images to view the full strips. 
Strip 401 is pretty straight forward.  There's a lot of staging work at play and a lot of panels that needed to feature multiple characters at play, which can be frustrating (totally manageable here) but I didn't try anything special artistically.  Tried to think more about which characters were facing what directions at what time and what that was significant of.  You know how it goes.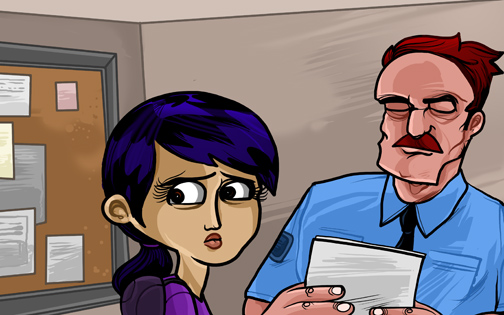 I had more fun with strip 402 which included a creepy silhouetted Jeremy, some experimentation with how to represent a flashback (strip down the background. Simple simple simple!) and this panel bellow.  The script called for it to be just a shot of Jeanette complaining about black eyes.  I wanted to keep the focus on her but still highlight the object of her frustration. In my mind this would be a close up on her face where you pull out to reveal Jeremy's gnarly eye bag.  With disposable time Id like to think I would have fully rendered the black eye in a painted version.  Ren and Stimpy, ultra gross close-up style. That woulda been the sweetness.